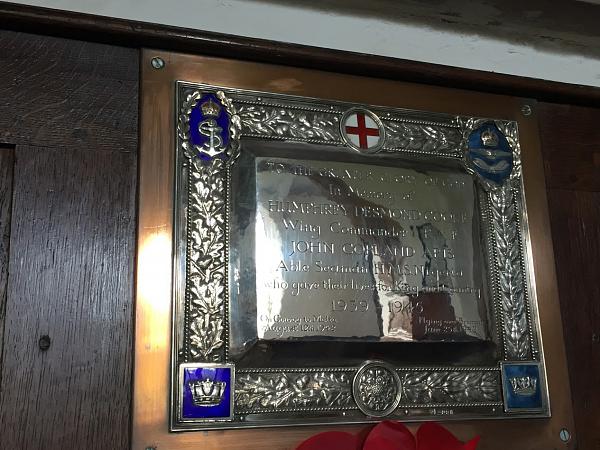 Wing Commander Humphrey Desmond Cooke 37062, 206 Squadron, Royal Air Force.
Humphrey Desmond Cooke
was born on 18 January 1914, the second son of Stoneleigh's vicar, the
Reverend Herbert Cooke
and his wife
Edith Maud nee Harrison
(
C1.12
). He was baptised at Stoneleigh Church on 3 March. His sister Dorothy was born six years later in 1920. Humphrey was educated at Shrewsbury, and in the summer of 1938 married Maureen Alice Elinor Alcock, in Aldershot. She was the only child of Colonel and Mrs H. Alcock, of Chester. He and Maureen had a daughter, Sally, born in summer 1939. He had served in the RAF since January 1935, training in Egypt, and then flew Spitfires and Hurricanes as part of Training Command in England. Initially reported missing in air operations over Germany, Humphrey was killed in action over Bremen on 25 June 1942. His squadron was part of Coastal Command, working in co-operation with Bomber Command. On the night of 25 June, 1942, they took part in the attack on the city of Bremen carried out by a thousand bombers from all the combatant commands. Their Hudson aircraft flew in four formations of three aircraft each, the formations being led by A/S/L. Crook, S/L. Patrick, F/L. Roxburgh and F/O. Wills. The other aircraft Captains were F/O. Bland and P/O. Delarue, F/S. Bass and F/S. Clarke, and F/S. Hill and Sergeant Wright, F/S. Goodson and F/S. Biddell. Owing to heavy cloud it was impossible to locate the special target allotted, which was the Deschimag U-boat building yard, and bombs were dropped in the vicinity of large fires. None of the crews reported engagements with enemy night fighters although several were seen. Aircraft "A" (F/L. Roxburgh) was badly damaged by anti-aircraft fire, landing at Base with its main spar broken. Aircraft "S" and "M" failed to return. The crew of the latter was Sergeant Wright, P/O. Phillips, Sergeant Payze, Sergeant Speed and Sergeant Peet. That of "S" consisted of A/S/L. Crook, P/O. Watson, F/S. Hubbard. They were accompanied by the Squadron Commander, W/C. Cooke; it was his first operational flight with the Squadron.